Description
TIPP: Schalter- und Steckdosen-Konfigurator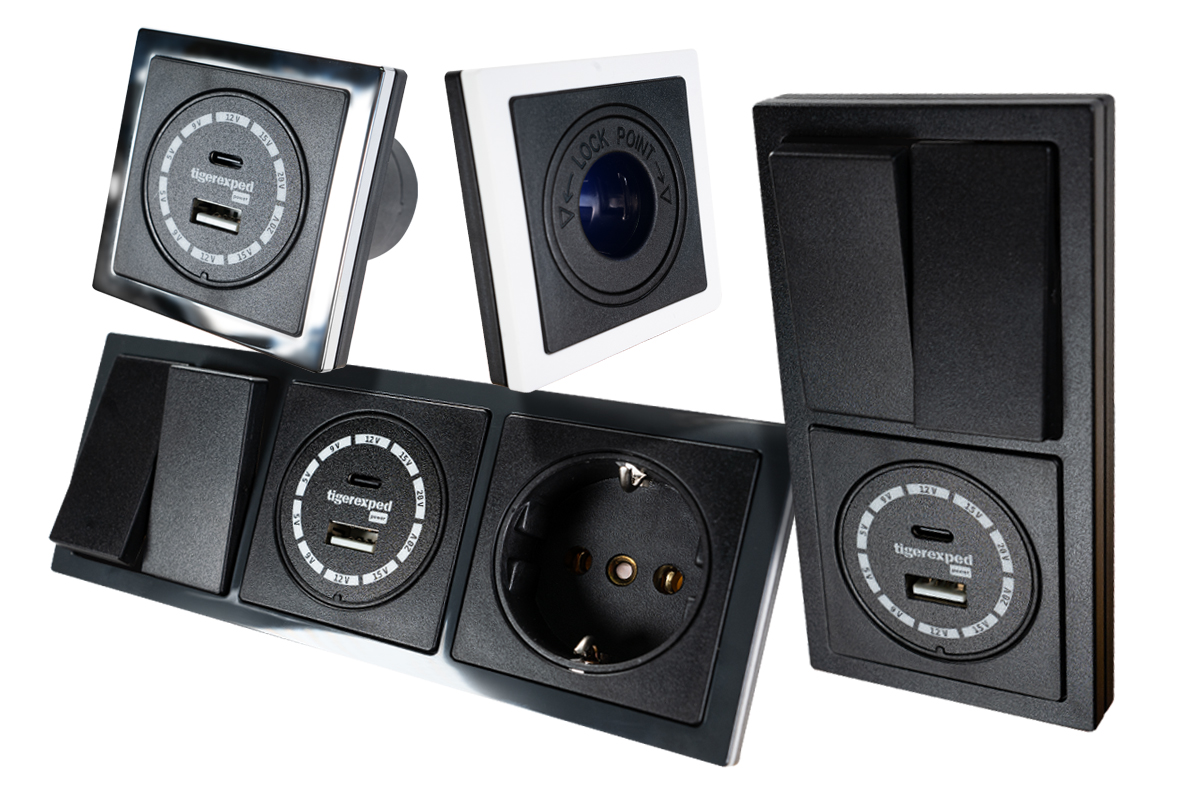 Du brauchst mehr Ladedosen und Schalter und am besten soll optisch alles aussehen, wie aus einem Guss?

Dann stelle in unserem Konfigurator 1-fach, 2-fach und 3-fach Einbaurahmen der selben Serie, mit dem convertiger und vielen weiteren Einsätzen individuell zusammen - mit wenigen Klicks, alles passend.
Module ALTERNATOR-IN

The Module ALTERNATOR-IN enables the on-board batteries to be charged while driving with the help of the alternator. Both from 12V on-board network (starter battery) to 12V living area voltage, as well as from 24V to 24V, from 24V to 12V or even vice versa.

Depending on the variant required, the module contains a Votronic VCC or Victron Energy 2b2 charging booster with suitable charging characteristics and temperature control - tailored to your alternator and on-board batteries.

Further components of the module
The Module ALTERNATOR-IN also contains fuses for the input and output sides that are dimensioned to match the performance of the charging booster, plus one replacement fuse each. A suitable fuse holder is also included - of course in a splash-proof design for installation in the engine compartment on the inlet side. The replacement fuse fits into the cover of the respective fuse holder and is therefore in the right place and always at hand.

To protect the batteries, a semiconductor switch controlled by the battery management is included in the package in the respective ALTERNATOR-IN Module, which can be configured via Bluetooth and, if necessary, even switched. This enables the BMS to switch off the entire charging branch of the alternator if necessary, in order to protect the storage unit from overvoltage, for example.

Compatible with all other charging modules
The Module ALTERNATOR-IN can be combined with other charging modules such as SOLAR or 230V-IN.

Variants
In the dropdown at the top right you get an overview of the available variants. As for all of our tigerexped power pro modules, however, the following applies: We want your electrical system to be really perfectly coordinated and to run safely and efficiently, which is why module packages can only be purchased after personal advice from one of our experienced electrical professionals. Read more on the category page about the power pro packages.

That sounds good? Then request your telephone advice right here!

Buy individual components
In addition to our tigerexped power pro module range for more demanding projects, which is always linked to personal advice, you can of course also simply order individual parts for your electrical system in the shop - see, for example, the menu item: Building Your Vehicle -> Electrical System.

basic packages
Furthermore, you can easily put together a complete basic electrics package yourself in our configurator. No matter what you choose: All pre-selected components fit together perfectly and result in an electrical system that is usually completely sufficient for normal camping and vanlife holidays.
Reviews
There are no reviews yet.