Description
TIPP: Schalter- und Steckdosen-Konfigurator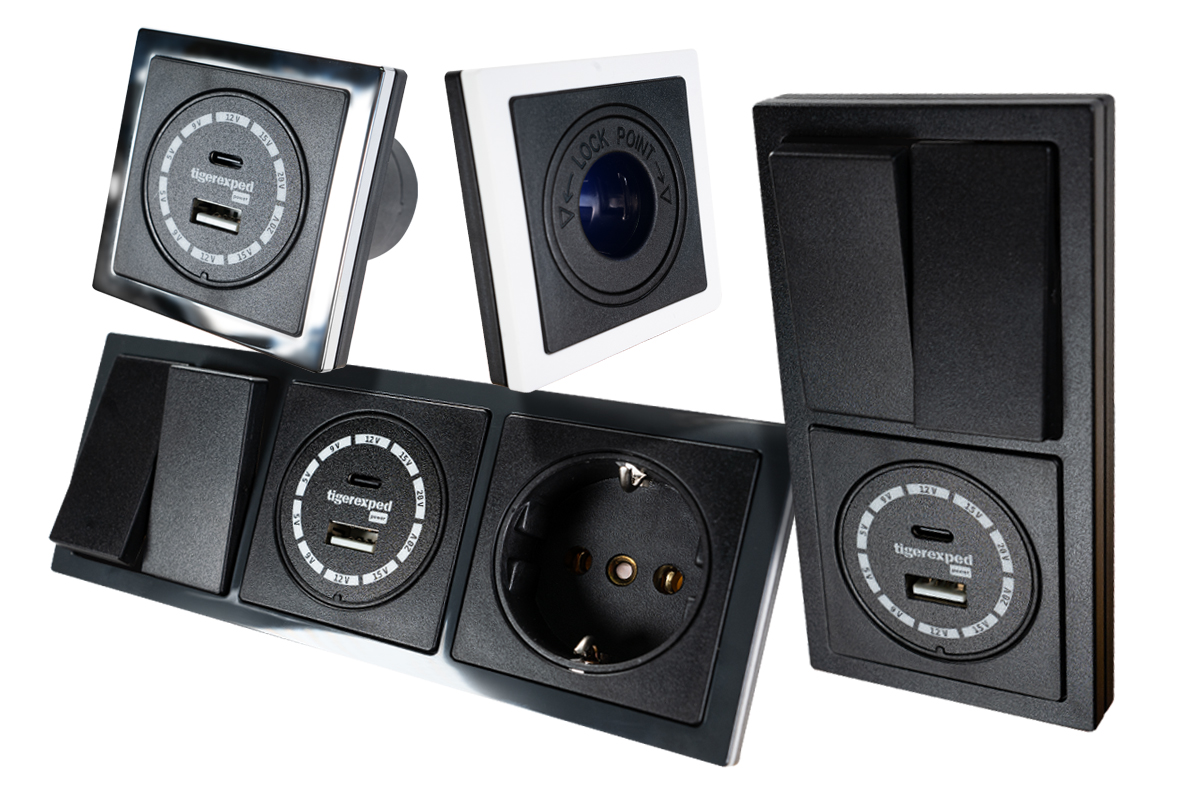 Du brauchst mehr Ladedosen und Schalter und am besten soll optisch alles aussehen, wie aus einem Guss?

Dann stelle in unserem Konfigurator 1-fach, 2-fach und 3-fach Einbaurahmen der selben Serie, mit dem convertiger und vielen weiteren Einsätzen individuell zusammen - mit wenigen Klicks, alles passend.
The Module BATTERY
The Module BATTERY is the heart of the entire 12V or 24V system in a mobile home / boat / yacht / expedition vehicle or campervan. All other modules are based on the Module BATTERY and its dimensions. It always contains the following components, the number and design of which are based on the on-board voltage and the selected capacity:
one or more LiFePo4 batteries
the complete central electrics
the battery management system
all components to protect the system modules that are NOT to be switched off by the BMS.
 
Innovative, cost and space saving
The central electrics can be solved in almost all dimensions of the Module BATTERY by means of the TEXU400 and thus
save the expensive purchase of individual products such as busbars, simplify installation, reduce cable crimping and thus possible sources of error by 50%, save 46% installation space in relation to conventional components.
Learn more about the TEXU400 central electrical system.
 
Module sizes
The Module BATTERY is available for 12 / 24V systems in all conceivable size variants. From 1.28 kWh with 1x 100 Ah LiFePo4 battery to 10.2 kWh with 4x 200 Ah LiFePo4 - for normal vacation to living and working in the motorhome with high energy consumption, there is the right package for everyone.

You can get an overview of possible variants in the dropdown at the top right. For the power pro system and the modules, however, the following applies: We want the electrical concept to suit you and your travel behavior, which is why these can only be purchased after a telephone consultation.

Sounds good? Request your advice from one of our experienced electrical experts now.

Buy individual components
In addition to our tigerexped power pro module range for more demanding projects, which is always linked to personal advice, you can of course also simply order individual parts for your electrical System in the shop - see, for example, in the menu: Building Your Vehicle -> Electrical System.

basic packages
Furthermore, you can easily put together a complete basic electrical package yourself out of three main sizes in our configurator. No matter what you choose: All pre-selected components fit together perfectly and result in an electrical system that is usually completely sufficient for normal camping and vanlife Holidays.
Reviews
There are no reviews yet.