Imagine that there was a diving equipment with which you could simply pursue your passion at any spot on earth - WITHOUT needing a local diving center! Making appointments, picking up and returning equipment and expensive rental fees would be a thing of the past.
A device that makes compressed air bottles cylinders and that is small and light, so you can easily store it in your camper and take it with you wherever you go.
Self-sufficient camping and diving - what wishes remain open! Maybe that you could even take it with you on a plane? No problem.
May we introduce: Your new best buddy, who provides you with breathing air at any time and without any complications - the AirBuddy!
AirBuddy - diving device with hose
What exactly is AirBuddy? In short: AirBuddy is the smallest and most practical diving device in the world!
It consists of a battery-operated compressor that accompanies you while diving in a kind of swimming ring on the surface. The ambient air is sucked in by the compressor, compressed and made available to you via a spiral hose through a regulator. For a comfortable use of the mouthpiece, the hose is attached to a harness, designed for this purpose.
AirBuddy closes the gap between simple snorkeling and scuba diving. A simple concept and yet highly innovative. AirBuddy contains no less than 6 patents that have been developed for its safe and pleasant use.
Your dive with AirBuddy
Diving with AirBuddy requires next to no preparation time. You can be ready to go in two minutes. During a start-up time of just 40 seconds, the pressure builds up in the compressor and a reservoir, which serves as an emergency reserve for breathing air. You can start right now.
Single Diver Pack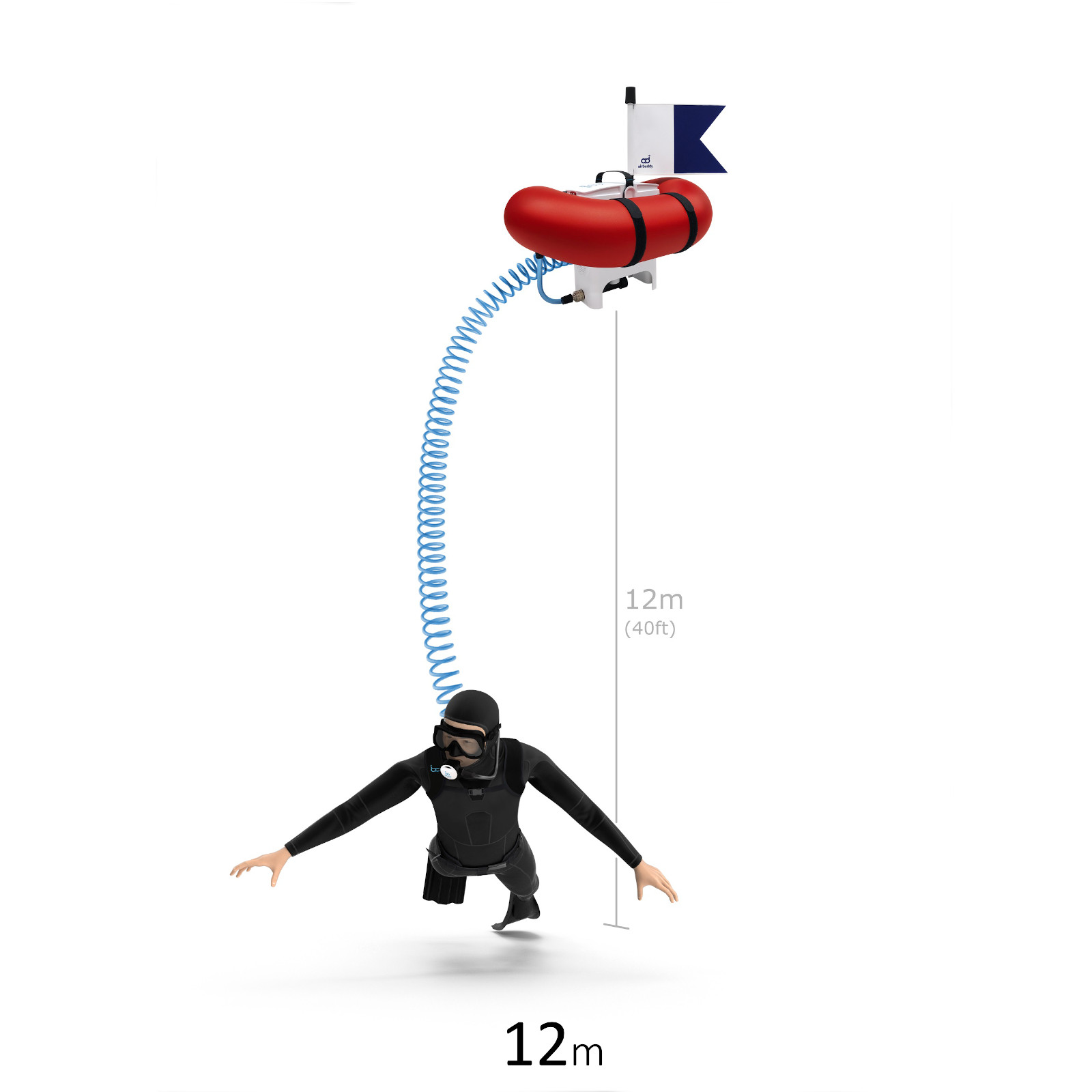 You can dive up to 12 meters deep on the AirBuddy's umbilical cord. The air pressure of approximal 2.5 bar provided by the compressor is ideal for this.
Buddy Diver Pack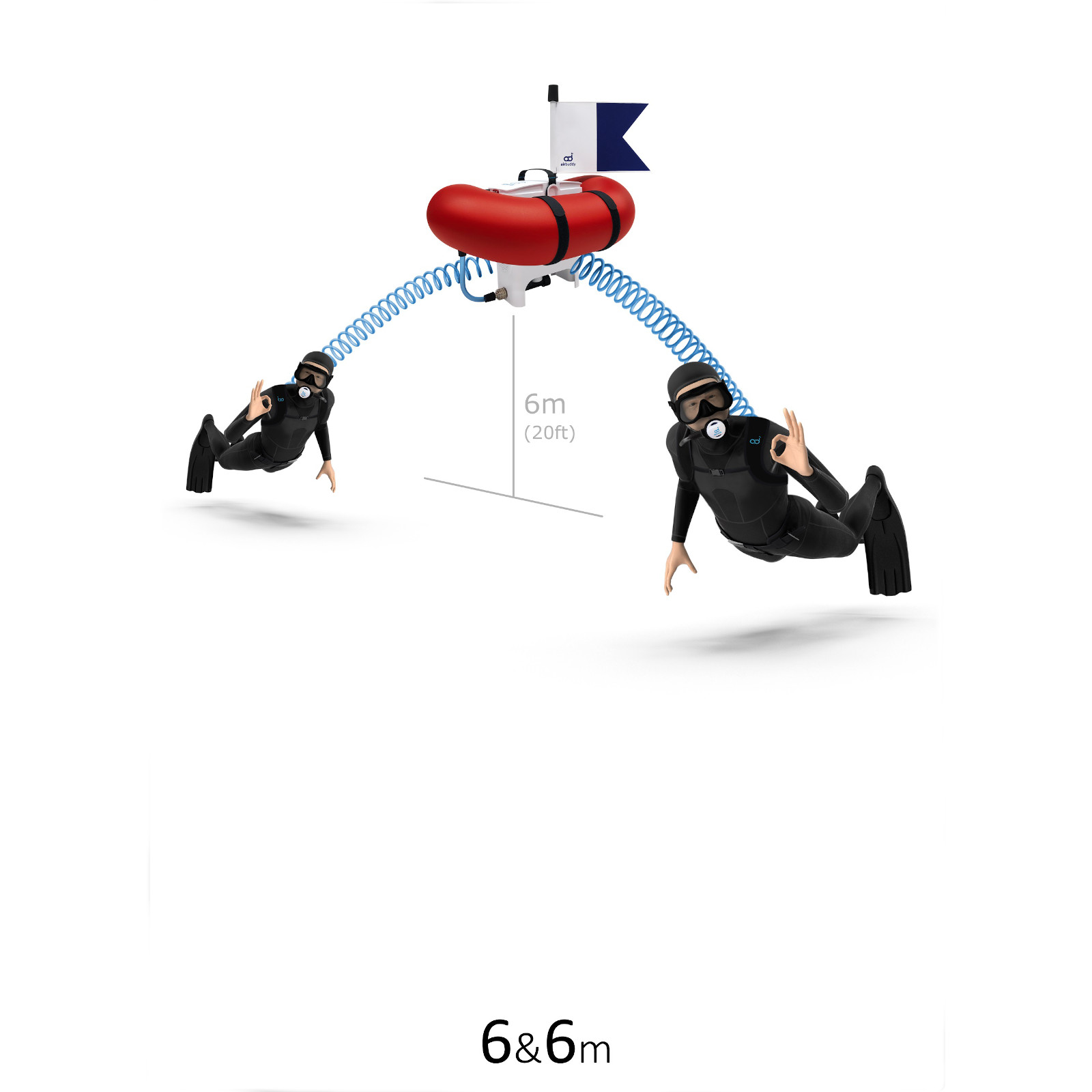 Diving as a couple is no problem either. In this case, both divers share the maximum depth. The Buddy Diver Pack contains two spiral hoses with a length of 6 meters each.
Duo Diver Pack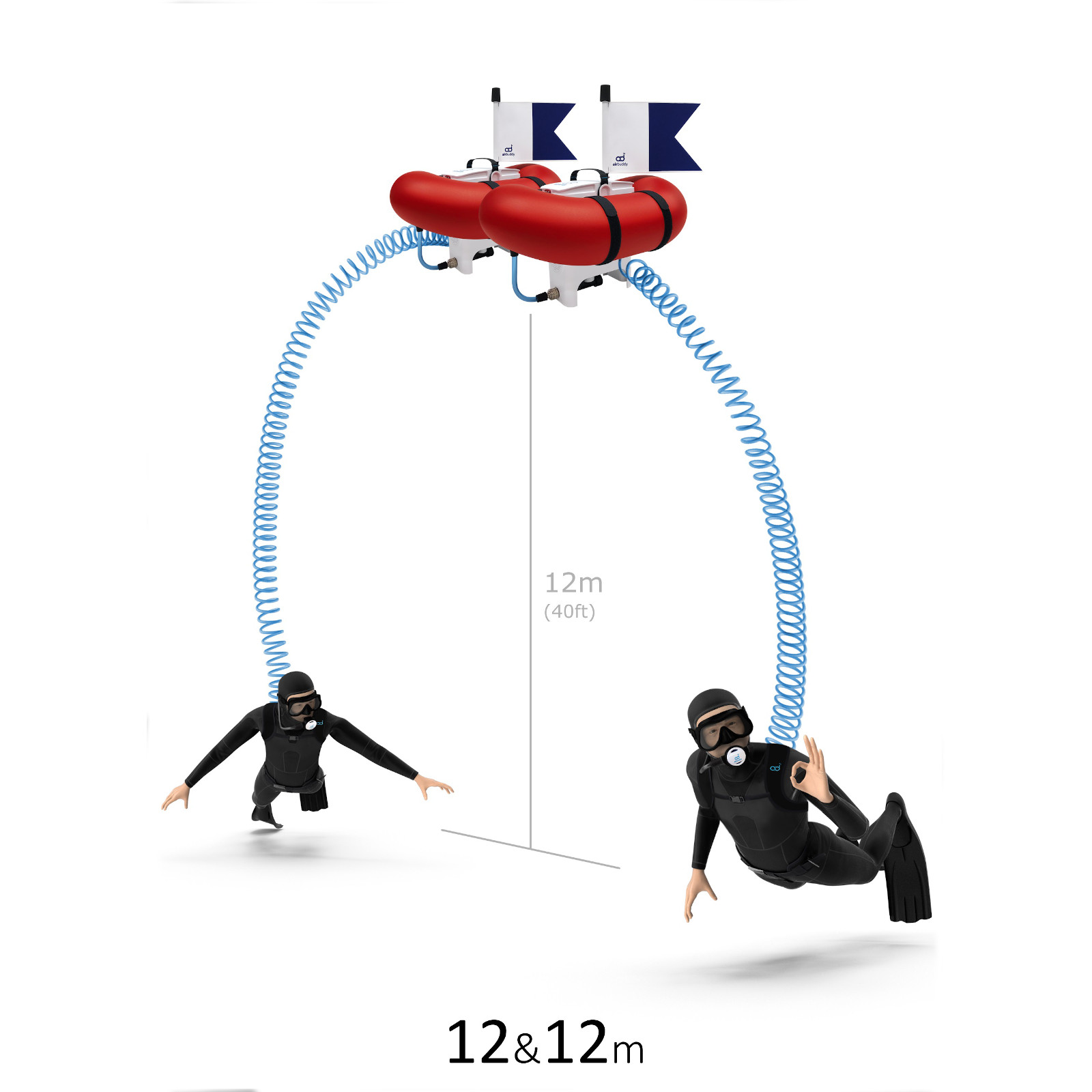 To discover the underwater world at a depth of 12 meters for two, connect two AirBuddys, as the Duo Diver Pack does.
Diving time
During about 45 minutes of diving time, you have plenty of time to make great discoveries underwater. AirBuddy doesn't care how deep you dive or how high your breathing rate is. While an oxygen cylinder gets "breathed empty", AirBuddy's battery continues to deliver breathable air with constant pressure and constant flow.
45 minutes correspond to a full battery charge and an additional safety reserve. Your AirBuddy will respond with an acoustic signal when it is time to return to the surface.
Diving weights
When diving with AirBuddy, your buoyancy remains always exactly the same, as you do not have a compressed air cylinder with you, whose content changes during the dive. So you only have to calculate your optimal diving weight once. No further buoyancy control is necessary.
Charge AirBuddy - ready for the next dive
The heart of AirBuddy is a long-life LiFePo4 battery. You can easily recharge it at any socket with 100 to 240 V. If you don't have a suitable inverter in your camper, you can order a 12 V charger. After approx. 4 - 4.5 hours your AirBuddy is ready to accompany you on the next dive.
Incidentally, the LiFePo4 technology used, is the most cycle-resistant of all current battery types. If you treat the battery according to the general recommendations, it will still have over 80% of its original capacity after 1,500 full charge and discharge processes.
Replace the battery and continue diving
You can hardly wait for the charging process and would like to continue diving straight away? With the optionally available replacement battery, you can stay under water until you are completely wrinkled: open the AirBuddy, insert the fresh battery, close the AirBuddy and off you go.
How safe is diving with AirBuddy?
AirBuddy was designed for the greatest possible security. Equipped with reliable, robust technology, it also offers a constant air supply of 16 liters so that you can definitely reach the surface in an emergency.
A removable magnetic switch also protects AirBuddy from manipulation when you are under water. It ensures that ONLY YOU can switch AirBuddy off and on.
a warning signal that informs you of a low battery level
a clearly visible diving flag on the compressor, which makes you visible to boats
a hose length limited to the provided air pressure
But the best security measure* is knowing what you are doing. There is no compulsory license to dive with AirBuddy. For your own safety, however, you should at least have completed training to become an Open Water Diver, because the best-functioning diving device can only be useful to you if you know how to behave underwater.
However you are on tour: AirBuddy comes with you!
The weight and size of AirBuddy makes it possible to take it with you to every spot. In contrast, try to reach a spot that is difficult to access with a vehicle with bottles on your back on foot.
The small diving device can even accompany you when traveling on plane. The AirBuddy?s battery is dimensioned that it can be taken on the flight. LiFePo4 batteries are still considered as dangerous goods. Therefore read the guidelines for the transport of dangerous goods of the concerned airline and let service staff know about it when you check in.
Ideal as on-board diving device
When traveling by boat or yacht, AirBuddy also fulfills practical functions. Use it not only to admire the beauty of the underwater world, but also, for example, for maintenance work on the hull.
Greatest possible freedom - maximum security
AirBuddy perfectly closes the gap between simple snorkeling and scuba diving with complex equipment and organization. It combines the greatest possible freedom, performance, safety and comfort, with minimal weight and space requirements, so that you can always have it with you.