Autoterm Comfort Control Unit for Autoterm/Planar heater 12V (EXCEPT Seriennummern 42xxx, EXCEPT 8D)
Description
Autoterm Comfort Control - Latest development for Autoterm / Planar parking heaters
The Autoterm Comfort Control includes all the improvements that Autoterm / Planar parking heater customers wanted from the predecessor control units. The consistent implementation of this wish list led to an unprecedented product beta test during development, which we at tigerexped conducted in cooperation with the manufacturer Autoterm and our dedicated customers.

New control panel - What can it do better
Design and Operation
Already on the outside, the new control panel for the diesel parking heaters is quite different from the previously known OLED control panel PU-27. The design has become more modern, the large buttons have been replaced by a chic, multifunctional rotary wheel with intuitive menu navigation.

In addition, the control unit has two more buttons. A back button to call up the previous screen and a quick button to start or stop the parking heater without calling up the menu or activating or deactivating timers.

The Comfort Control takes up less space than its predecessor, the PU-27, despite a greater variety of functions and information displayed. At just 82 x 37 x 19 mm, it fits discreetly into any corner of the camper. No matter whether you prefer to keep the displays for devices clearly visible or well hidden: Its dimensions make it small enough not to interfere with the special design of a camper, but its appearance also makes it chic enough to "keep an eye on" at all times.

Menu navigation: Now also in German
The language selection of the previously available controls was limited to Russian and English. With Autoterm Comfort Control (ACC for short), German menu navigation is programmed for the first time.

Functions - In which heating modes can the Comfort Control control the parking heater?
The Autoterm / Planar parking heater can be operated in four different heating modes with the new Comfort Control panel. These include power mode, temperature mode, heating and ventilation and a thermostat mode.
NEW: The thermostat function
The thermostat function, with which the parking heater runs until a pre-selected temperature is reached and then switches off the heating function and ventilation until the temperature has dropped by a certain (adjustable) number of degrees, was requested by many. After that, the heating switches on again automatically.
Heating and ventilation
In doing so, the appliance heats until the pre-selected temperature is exceeded by 1 degree. Then the combustion switches off and the heating runs in ventilation mode until the temperature has fallen 5 degrees below the preset temperature. The heating process is then automatically resumed.
Power mode
A certain heating power is preselected and no matter how high or low the ambient temperature is - the parking heater always continues to run with exactly this selected power.
Temperature mode
The parking heater maintains a certain temperature range by independently reducing or increasing the heating power without stopping the burning process in between.

Fan function
As with the PU-5 and PU-27 control units, the parking heater can of course also be operated in fan mode with the Comfort Control control unit to significantly improve the air circulation in the touring vehicle. This prevents both trapped heat and the formation of mould in high humidity.

Voltage monitoring
Autoterm / Planar parking heaters consume little electricity. Nevertheless, of course they cannot do without it. To avoid unintentional deep discharge of the batteries, the Comfort Control offers voltage monitoring. The lower voltage limit can be set by the user; when this is reached, the heater switches off automatically.

Freeburn reminder
In order for a diesel-powered device (whether a car engine or a diesel parking heater) to provide pleasure through a long life with perfect functioning, it must be operated in an appropriate power range. Just like a diesel engine, a parking heater in a camper must therefore be "freewheeled", i.e. burnt free, if it otherwise works a lot in a small load range. Unfortunately, this is all too quickly forgotten, the combustion chamber becomes sooty and performance losses can result in the heater no longer starting.
The Autoterm Comfort Control helps make sure that doesn't happen. It reminds you at regular intervals to turn off the heater, so you always get what you expect from an Autoterm / Planar parking heater: reliable heating performance in your camper, no matter where you are on the road.

Timer
Three different timers can be set in the menu. The heating then starts in the set operating mode for the set duration. You can choose between the settings "every day", "every working day" (Mon - Fri) or "freely selectable days".
If timers are activated, the display shows this by a green flashing LED.

Further improvements
These are only the most important of the completely redesigned control panel for the Autoterm / Planar parking heaters. The Comfort Control offers further features, such as the display of the time, an optimised error display or an improved temperature sensor.
Connection
The connection is made using the plug & play method, also in exchange with other control units such as PU-5 or PU-27.

ATTENTION: FIRST EDITION/2
UNTIL NOW ONLY COMPATIBLE WITH Autoterm 12V DEVICES, EXCEPT Planar 8D, EXCEPT serial numbers starting with 42xxx, for 14tc-mini/Flow 14 please contact us first). As soon as we receive devices from the manufacturer that can be operated on all parking heaters, we will let you know immediately via newsletter and on social media!
ACHTUNG: FIRST EDITION - Noch nicht mit allem Heizungen kompatibel!
Bisher nur kompatibel mit Autoterm
12V GERÄTEN,
AUSSER Planar 8D,
AUSSER Seriennummern beginnend mit 42xxx.
Für 14tc-mini/Flow 14 bitte erst Kontakt aufnehmen.
Seriennummer herausfinden: Du findest die entsprechenden Angaben auf dem Typenschild, direkt auf deiner Heizung, hier z.B. einer Air 4D. Die Seriennummer befindet sich unter dem Strichcode und beginnt in unserem Beispielfoto mit 47xxx. Außerdem ist das Gerät auf 12V (NICHT 24V) ausgelegt, damit PASST in diesem Beispiel das ACC an die entsprechende Heizung. Ferner ist die Seriennummera auch auf den Garantiepapieren zu finden.
Sobald wir vom Hersteller Geräte erhalten, die an allen Standheizungen betrieben werden können, geben wir sofort per Newsletter und auf Social Media Bescheid!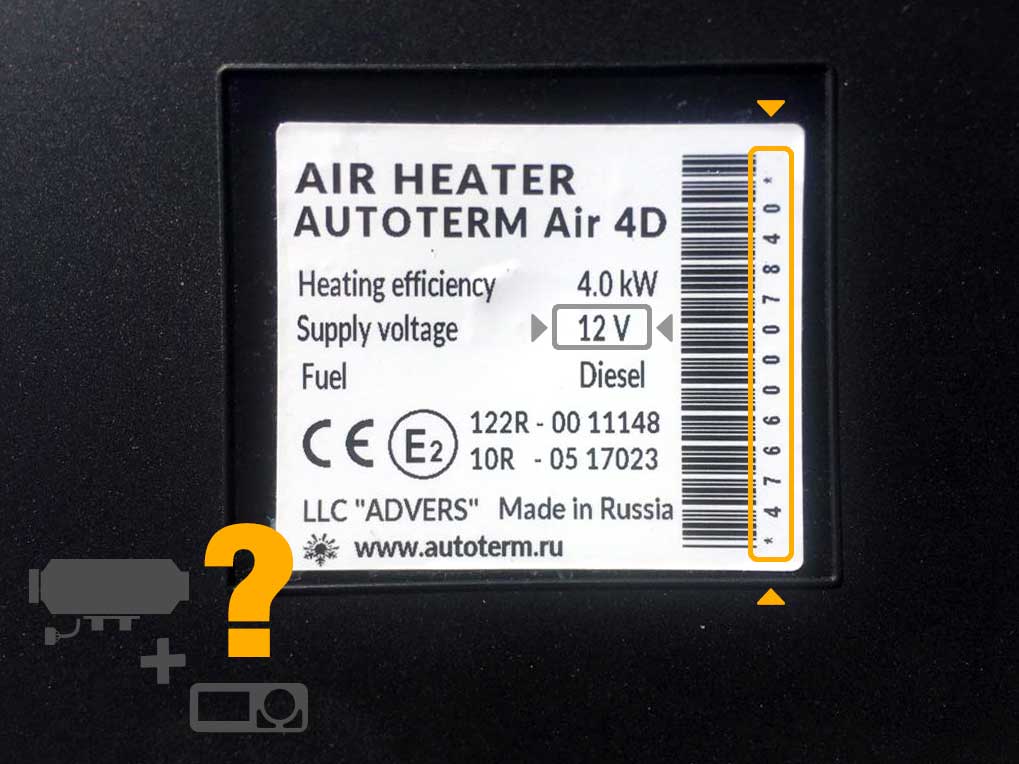 Other customers also bought the following items
Technical specifications