Distribution Block TEXU400 - All in One RV Electrical System
Description
TEXU400 Distribution Block for RV and Boat
TEXU400 revolutionizes the electrical installation. It combines different components that previously had to be purchased individually in a round overall housing, that optimizes space utilization and the number of possible connections in the smallest of spaces. The special arrangement, which is ONLY available with the TEXU400, enables system integration with groundbreakingly low effort. This results in drastic cost, time and space savings with a simultaneous reduction in sources of error and maximum ease of use after installation.
Costs less
The TEXU400 Distribution Block replaces the purchase of several expensive individual components. The unique, round arrangement in a single device also leads to large savings in raw materials. Above all, the consumption of copper, which has risen sharply in price, could be drastically reduced. The merging of functions and the saving of raw materials result in significant cost savings compared to the purchase of conventional components for the installation of a comparable system.
Saves space
The omission of individual components and the patented round design not only saves money - it also requires significantly less installation space in the RV or boat. Extensive electrical systems can therefore be planned in a smaller space and the space gained can be used for other purposes.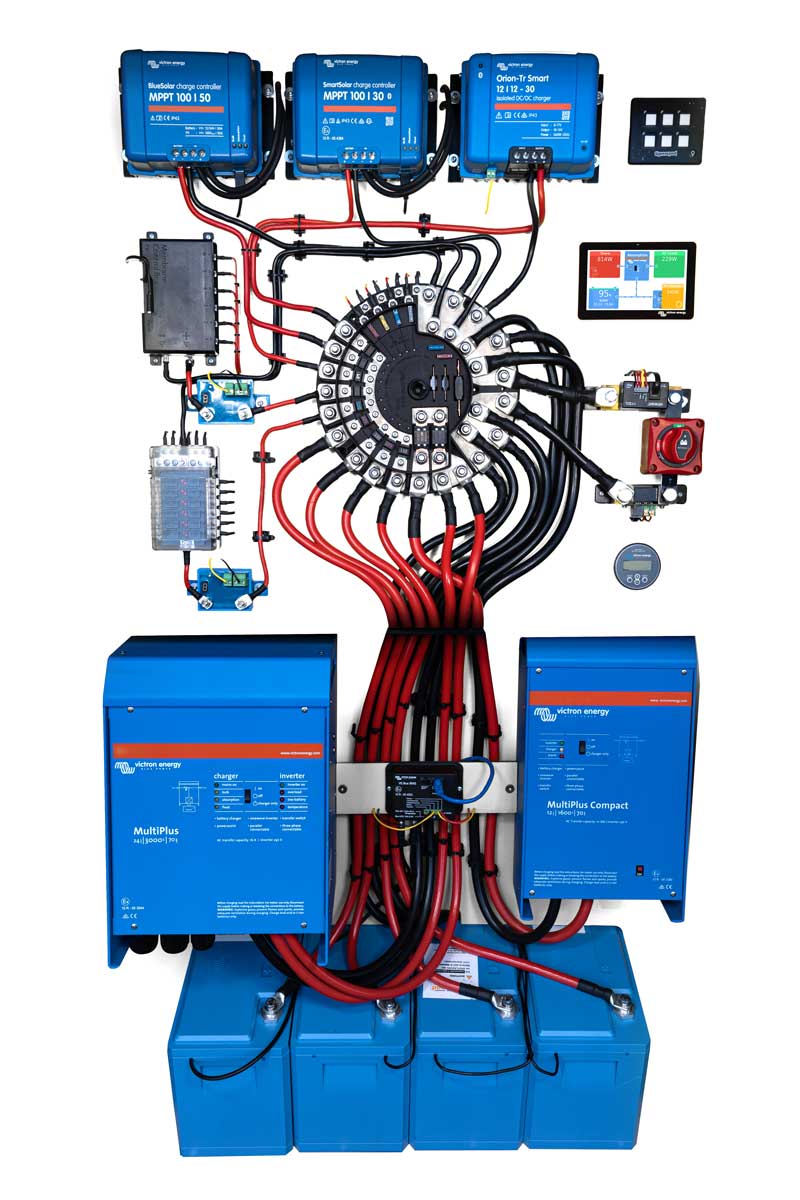 Saves working time and sources of error
Instead of many individual components, only a single item is installed, which "by the way" makes half of all cable crimping superfluous! This saves valuable working time and additional installation material. 50% fewer crimps mean even 50% less stress on connections that can (now or later) cause problems. The entire installation becomes less susceptible to faults in one fell swoop.
Furthermore, the stacking of cable lugs and insufficient ground distribution is finally a thing of the past. Compared to a square structure with individual components, 46% valuable space is saved in the vehicle or boat!
TEXU400 components and functional overview
Divided negative busbar
Connection of up to 4 battery banks.
11 high-current and 4 standard consumers.
Plus rail for on-board batteries and consumers
Screw connections and fuses
2x MEGA / AMG fuse max. 400A
9x MIDI / AMI fuse max 170A
4x ATO / ATC / ATP fuse max. 30A
All connection bolts are made of corrosion-resistant stainless steel. M8 bolts with flange nuts are provided throughout for high-current consumers in order to securely connect cable lugs up to 70 mm².
1:1 mass distribution
No more insufficient mass distributions! With the TEXU400, there is one minus connection for every plus connection.
Simple integration of a total current measurement
The factory-fitted sunt bridge between the negative busbars can be easily removed with screws and replaced with a plastic bar included in the scope of delivery to enable a quick and uncomplicated integration of a measurement shunt.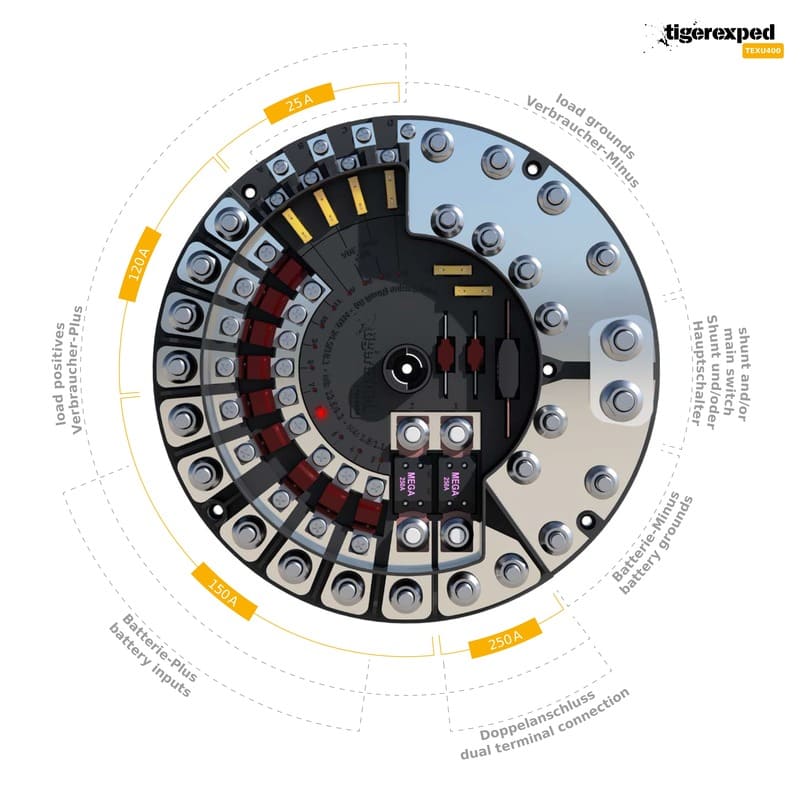 Dual input MEGA fuse
NEW ON THE MARKET: The TEXU400 includes a MEGA box with a double screw connection. Where cable lugs used to be stacked or other sub-optimal constructions had to be thought up on a case-by-case basis (e.g. with split cables of powerful inverters), there is now a professional solution: A MEGA fuse with a maximum of 400A and double screw connection ensures professional and safe installation of such components.
Ignition-proof according to ISO 8846
The UFO is protected against ignition according to ISO 8846 with the integrated, all-round bar with seal. It is therefore also approved for installation in the engine compartment.
LED blown fuse control with fiber optics
Immediate Diagnosis. Fiber optics allow the LED blown fuse control to light up directly on the labeling of the circuits on the closed cover! You don't have to take out fuses and look headlong for errors in bottlenecks. A ready-made labeling set, some of which can be customized, is included with the TEXU400.
Space for spare fuses
The TEXU400 includes additional slots for spare fuses (1x MEGA, 2x MIDI, 2x ATO/ATC/ATP)
Convenient opening and closing
The knob located in the middle of the housing cover allows the cover to be opened and closed without any problems and even enables one-handed operation in confined spaces.
Caution:
Since individual electrical systems contain different components that have to be fused appropriately, a ready-made fuse set is NOT included in the scope of delivery. But of course you can find fuses and other installation material in our shop.
Click here and
get to the fuses
.
Other customers also bought the following items
Technical specifications
Dimensions packing (l × w × h):
Ratings
Die Überprüfung der Echtheit unserer Kundenstimmen geschieht dadurch, dass die Bewertungsabgabe erst ermöglicht wird, nachdem eine Anmeldung in einem registrierten Kundenkonto erfolgt ist, über das ein Kauf getätigt wurde.
PDF
Miscellaneous