Description
TIPP: Schalter- und Steckdosen-Konfigurator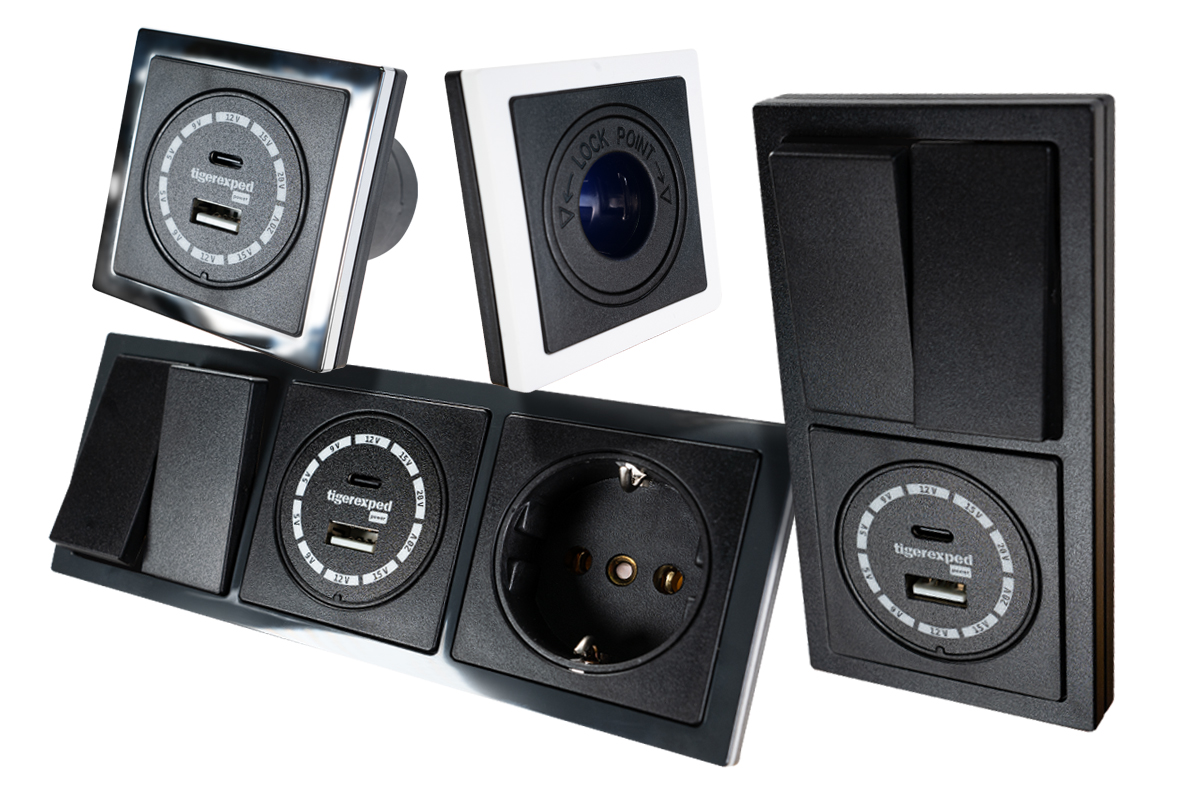 Du brauchst mehr Ladedosen und Schalter und am besten soll optisch alles aussehen, wie aus einem Guss?

Dann stelle in unserem Konfigurator 1-fach, 2-fach und 3-fach Einbaurahmen der selben Serie, mit dem convertiger und vielen weiteren Einsätzen individuell zusammen - mit wenigen Klicks, alles passend.
TWIN 2-Kit - Perfectly controllable, redundant heating in large travel vehicles
The TWIN 2-Kit is primarily designed for vehicles with living space of 16 cubic meters or more. With it, the temperature in the interior can be perfectly regulated, regardless of whether it is only a mild 10 degrees plus or 35 degrees minus outside. It is therefore ideally suited if you want to go to colder regions, too.
It also offers the huge advantage of redundancy.
With the TWIN 2 kit, the temperature is better under Control
Why should you buy two small heaters when a large one with twice the heat output costs just a little more than a small one?
It's the eternal question: which heater should I use for my vehicle. In forums or camper construction groups on social media platforms there is an almost daily discussion about whether the 2 kW or 4 kW heater should be installed in a special vehicle.
The answer that often follows: "Buy the big one, it only costs a little more and you get twice the performance".
One can only say: Totally wrong point of view.
4 kW heating output - often just too much
For small and well-insulated vehicles or travel destinations that should pamper you with pleasantly mild temperatures, 4 kW of heating power is simply too much. Even at the smallest level, the interior of your travel vehicle becomes a sauna and to stop it you have to open the window. This is not only totally wasted, but also not particularly pleasant. You always oscillate between too cold because heating is off and too hot as soon as heating is on.
However, if you think about traveling to real winter, then the power of the 4 kW heating would of course not be bad. But just because you want to see snow once every 5 years, the heating is simply completely oversized for the rest of the time.
Another problem: soot Formation
Oversized also means: Your heating is more likely to soot and is more prone to malfunctions and loss of performance. Continuous operation at the lowest level leads to soot in the combustion of diesel. In this case, the heating must be freed of these deposits every one to two weeks by operating at the highest level for at least half an hour. So you didn't save anything.
The TWIN 2 kit as the perfect solution
The TWIN 2 kit makes the perfect balancing act between too much and too little heating power. While only one of the two heaters is in operation at milder temperatures, the full power of 4 kW can be used when required.
The 2 kW heaters run 99% of the time in an optimal range, both in terms of the heat emitted and for the longevity of the devices. The temperature can be regulated further down than with a 4 kW heater, which means that a pleasant room temperature can be achieved with mild outside temperatures. Sooting is prevented by more frequent operation in the middle or higher range at cooler outside temperatures.
And nobody has to freeze at - 30 degrees when the second heater is switched on.
Advantage number 2: redundancy
Even if a heater can be repaired on the go, which is actually possible with Autoterm heaters - it stays pretty cold until that's done. Depending on where you are, annoying to really problematic.
Not so if you have a second heater. Knowing that you don't have to sit in the cold, you would much rather travel into the cold, right !?
TWIN - mounting flange
We specially developed a mounting flange for the TWIN 2 kit. It accommodates both heaters at the same time, thermally decouples them from the vehicle floor and seals the cutout that you have to make for the heaters from the outside.
Drilling a lot of individual holes for all inlets and outlets for two heaters is not necessary any more.
What else you need to install the TWIN 2 kit
The piping system for hot air distribution cannot of course be included in a finished kit. Every vehicle is different. You can plan the piping like a normal 90 mm system. The corresponding components can be found in the category 90mm System.
Optional: silencer
The Autoterm heaters are generally quiet in operation. The noise level can be further reduced with our special Schlafgut silencers. You can find it under item number 17895.
Remember to allow enough space when planning if you want to use Schlafgut silencers.
Tip on warm air Distribution
When distributing warm air, strategically include not only the outlet side of the heater, but also the intake side.
If you can still plan the expansion accordingly, build the furniture e.g. so that the intake air flows behind the row of furniture - this way condensation and thus mold can be avoided in these sensitive areas.
Scope of delivery:
2 pieces Autoterm Air 2D (formerly Planar 2D) air heater (Attention: The TWIN 2-Kit is for vehicles with 24 V on-board voltage! There is also a variant for 12 V.). Both heaters with high altitude kit and extra-quiet pump, complete installation kit and each with a PU-27 OLED display
Detailed specifications, scope of delivery, etc. for the heaters can be found in the article descriptions for the Autoterm Air 2D in our shop (dimensions approx. 32.5 x 12 x 12 cm)
1 piece of TEX1634 TWIN installation flange made of stainless steel
Special Y-piece to merge onto a single 90mm air system
60mm hot air pipe for installation