Description
TIPP: Schalter- und Steckdosen-Konfigurator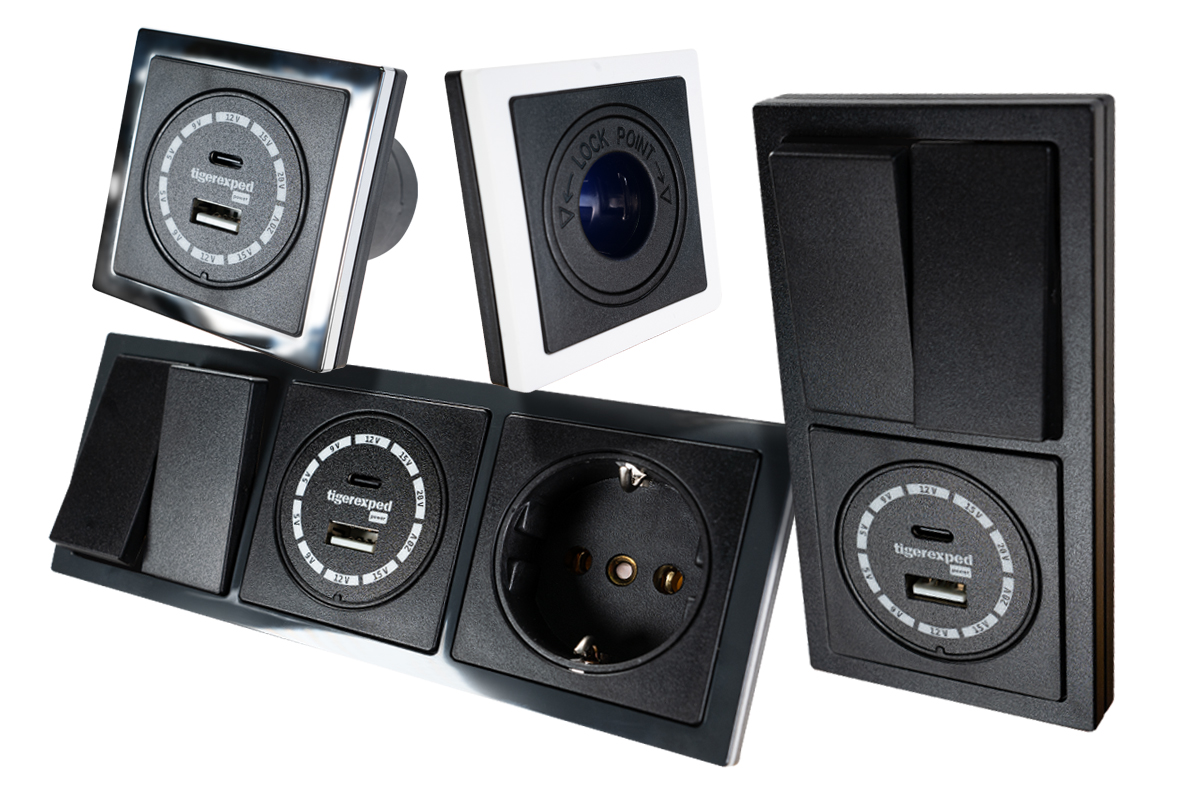 Du brauchst mehr Ladedosen und Schalter und am besten soll optisch alles aussehen, wie aus einem Guss?

Dann stelle in unserem Konfigurator 1-fach, 2-fach und 3-fach Einbaurahmen der selben Serie, mit dem convertiger und vielen weiteren Einsätzen individuell zusammen - mit wenigen Klicks, alles passend.
The diesel heating installation set for boats and yachts
For many years, Autoterm heaters, which have become known under the names Planar 2D and Planar 44D, have proven themselves in travel vehicles on land and at sea. The product has since been given a new name, but the robust, reliable technology remains.
This is also done by the other advantages of the air heater, now called Autoterm Air. Without loss of guarantee, they can also be installed in campers or boats by laypeople. Of course, the installation instructions and installation guidelines must be observed, which guarantee professional installation and thus safe, perfectly functioning operation of the heating.
All Autoterm heaters are recognizably tested for safety through the award of the E-mark (e2). They can therefore be installed without registration.

What does this heater "Marine"
There are no special heaters for the marine sector, the heater itself is 100% identical to the models installed in land vehicles. Special "marine kits" are offered on the market again and again, but all of them merely represent a combination of some components, but do not contain a special heater.
What advantage does our marine kit offer then?
Since every boat or ship is different, we have long refused to offer a "marine kit". There is just more than one type of hull wall penetration, more than one type of heating installation, etc. That means a fixed kit makes no sense at all, unless we simply conceal the variety of possibilities and simply deliver SOMETHING. Unfortunately, that doesn't suit us, so we thought about something:
The individually combinable kit for the boat heater installation
We have designed our shop so that the relevant components can be freely configured.
Due to the possibility of an individual combination, we have the right solution for every installation situation.

Autoterm heaters for water and land vehicles
Power
This marine kit contains the Autoterm 2D heater, a diesel air heater with a maximum heating output of 1.8 kW and 12V supply power.
The version with Autoterm 4D is also available, which offers 4 kW heating output (article number ...). Basically, the heater should be selected to match the volume of the room to be heated and not with too much heating power, as constant running at only the lowest level leads to soot in the combustion chamber. Occasional burning off at the highest power level is advisable in any case and ensures a long service life for the heater.
Both models are available for 12 V and 24 V on-board voltage. Please select accordingly when ordering.
e-mark
Autoterm heaters can be installed by the boat owner without loss of guarantee (manufacturer's instructions for installation must of course be observed).
They are also provided with an e-mark (e2). This means that your installation does not require any registration or acceptance.
Independent height adjustment
Autoterm diesel air parking heaters have an altitude kit that automatically adjusts the fuel supply to changing air pressure conditions. So a boat tour on Lake Titiccaca at 3800 m above sea level is no problem.
Control units
Different control panels can be used to operate the heating.
Included in this set:
PU-5: A simple control element with a rotary control for setting a power level. A separately available temperature sensor can be connected for regulation via temperature mode.
Alternativ:
PU-27: An electronic control panel with OLED display and integrated temperature sensor (cable length 1.8 m) that also has a timer function. Menu navigation in English and Russian, operating instructions also in German.

Remote control
The heating wiring harness has an emergency switching input, which is often used to use its own remote control. The heater can then be regulated or switched on and off via permanent contact or a pulse signal.
Technical specifications
Operating voltage: 12V
Heating capacity: 0.8 kW (min), 1.8 kW (max)
Air volume flow: 34 m3 / h (min), 75 m3 / h (max)
Fuel consumption: 0.1 l / h (min), 0.24 l / h (max)
Power consumption: 10 W (min), 29 W (max)
Warm air piping: 60 mm system

Dimensions:
Length: 33 cm
Height: 12 cm + 2.5 cm connections
Depth: 12 cm
Weight of the heater without accessories: 2.86 kg

Scope of delivery
Heater 2 kW 12V
Control unit PU-5, wire 1,80m
Autoterm fuel pump "Extra Quiet"
Exhaust silencer
Rubber holder for dosing pump
Wiring harness pump
Wiring harness heater
Air intake hose with integrated silencer
Heat protection hose
End piece exhaust pipe and clamp
Tank suction pipe
Fuel line, total 5.5 m
Fuel hose as a line connector (if necessary, split pieces to fit)
1 m metal corrugated exhaust pipe
Stainless steel exhaust silencer
Mounting material (screws, nuts, clamps, shrink tubing, cable ties)
operation manual
Through-hull fitting and accessories depending on configuration