Description
TIPP: Schalter- und Steckdosen-Konfigurator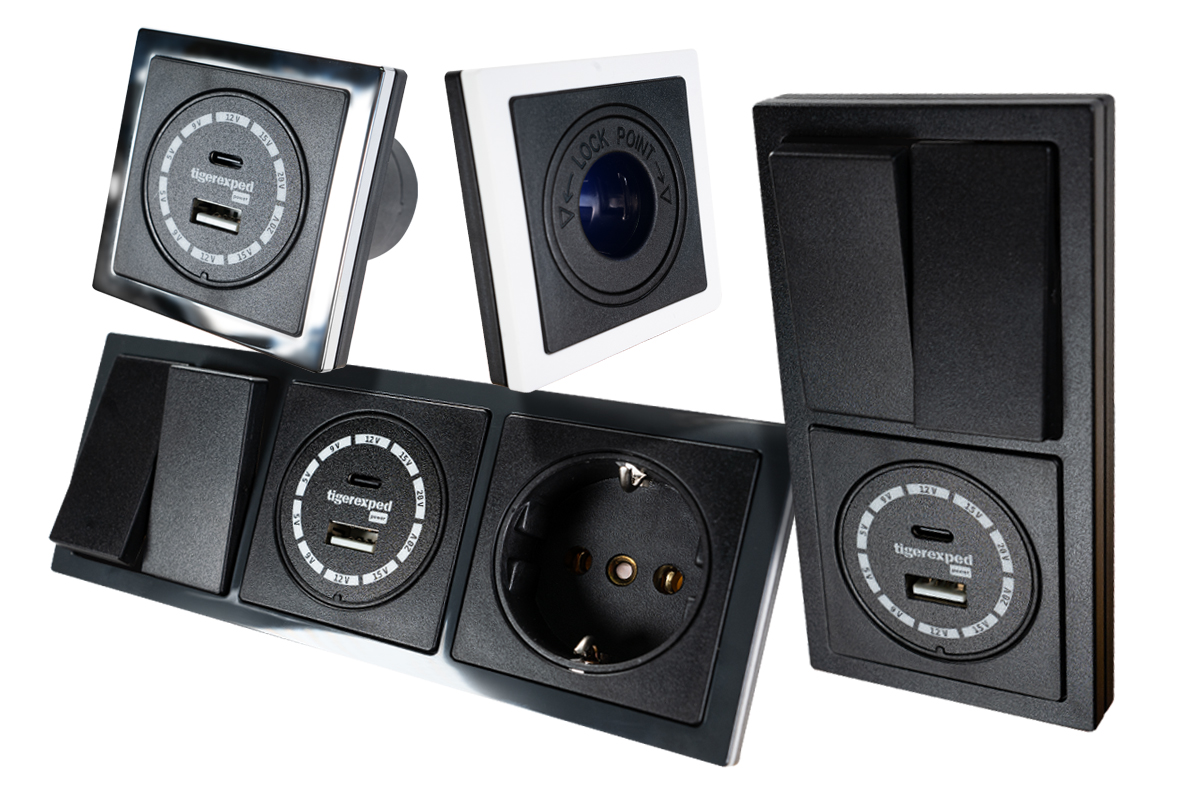 Du brauchst mehr Ladedosen und Schalter und am besten soll optisch alles aussehen, wie aus einem Guss?

Dann stelle in unserem Konfigurator 1-fach, 2-fach und 3-fach Einbaurahmen der selben Serie, mit dem convertiger und vielen weiteren Einsätzen individuell zusammen - mit wenigen Klicks, alles passend.
TRED HD - Heavy Duty
TRED HD recovery boards live up to the name Heavy Duty. The traction aids made of special nylon can carry up to 4.5 tons. And they do that even under difficult conditions. The material offers great flexibility while maintaining strength and durability.
The special profile ensures excellent grip, whether on sand, snow or mud.
With a weight of 3.5 kg per board, they are only slightly heavier than the TRED GT.
A temperature range of -15 to +70 degrees C° makes TRED DH recovery boards operational and reliable both in the desert and on the ice.
TRED boards can be stacked to save space. Two boards come to a height of only 8.5 cm and can therefore be attached to the outside of the vehicle with the appropriate accessories.
The traction boards made by TRED are available in various muted and bright colors. So you can not only select them to match your off-road vehicle, but also find them more easily in the mud.
All TRED boards are developed and manufactured in Australia.
Load capacity: up to 4.5 t
Material: specially developed nylon
Temperature range: -15 ° C to 70 ° C
Weight: 3.5kg / pc
Dimensions: 109 x 31 x 6.2 cm
Stacked only approx. 8.5 cm high
Colors: bronze, red, blue, silver, black
incl. strap
Other variants:
TRED 800 - the inexpensive entry-level model
TRED GT - load capacity up to 4 tons
TRED PRO - patented Materialmitx in the most advanced mountain board on the market with partially elastic knobs.
TRED 4x4 - quality from Australia
TRED is one of the leading manufacturers of recovery boards for off-road vehicles. The boards, which are developed and manufactured in Australia, guarantee the best grip thanks to special profiles and withstand the highest demands. Because of these excellent properties and the pronounced durability, they are even used in mines.
Plastic traction boards
It is no longer necessary to lug heavy metal sheets on off-road vehicles. The plastic traction boards offer more grip with less weight thanks to their well-engineered profiles and knobs. In addition, the plastic boards do not become wavy even after being driven over and can still be easily mounted on their brackets after use.
The choice of materials for TRED 4x4 is designed for extreme robustness and durability.
Recovery Boards - indispensable off-road
Boards for recovery are the number 1 equipment when driving on unpaved roads.
Tips for the use of sand plates can be found in our how-to advice article for the use of mountain boards