Description
TIPP: Schalter- und Steckdosen-Konfigurator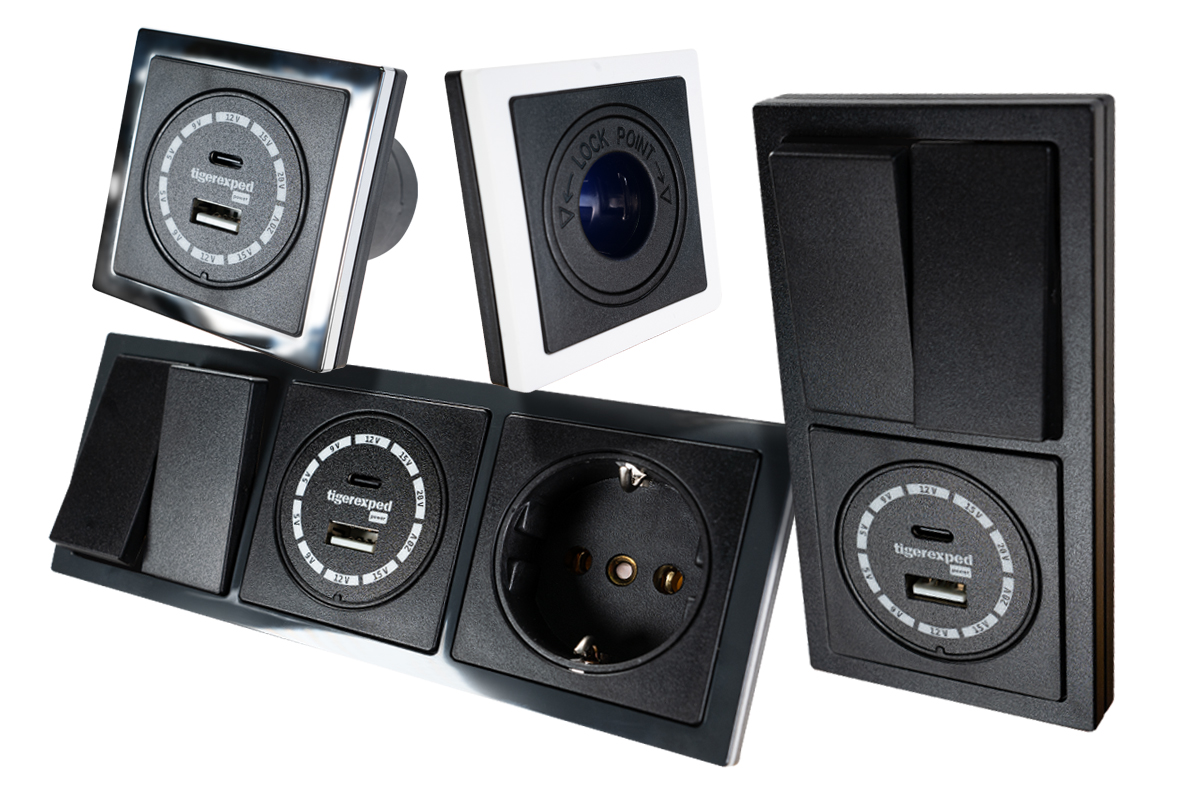 Du brauchst mehr Ladedosen und Schalter und am besten soll optisch alles aussehen, wie aus einem Guss?

Dann stelle in unserem Konfigurator 1-fach, 2-fach und 3-fach Einbaurahmen der selben Serie, mit dem convertiger und vielen weiteren Einsätzen individuell zusammen - mit wenigen Klicks, alles passend.
Heating installation set with 4 kW heating output
As the title of the kit suggests: This heating kit is right for 1% of campers - that means, for EVERYONE else, it is simply unsuitable. A heater with 2 kW is completely sufficient for 99%. More is NOT better in this case.
Under these criteria, the 1% camper kit suits you and your vehicle:
The interior of your camper is quite large (from approx. 14 - 16 cubic meters of living space, calculated without furniture)
Your vehicles insolation is poor and you don't really want to / can change that
You are an absolute winter freak and when you get into the vehicle, it always goes towards the cold.
With two times yes, you're here at the right place. Otherwise, we recommend that you familiarize yourself with the 99% Camper Kit and only then make a decision. We want you to be satisfied with the result and not to install something that does not suit you, your vehicle and your travel behavior.
Do you see yourself somewhere in between?
Do you have a large, well insulated vehicle and you might like to drive to wintry Siberia, but you are also not averse to the mild climate of Morocco? Unfortunately, neither one nor the other suits you - but don't worry: We have the OPTIMAL SPECIAL SOLUTION for you: The TWIN-Kit!
Autoterm heating in continuous Operation
What applies to the 99% kit, is of even greater interest for the 1% camper kit: The Autoterm heater can simply be kept in continuous operation. Especially when the ambient temperatures are extremely low or the walls of the camper / cabin are not well insulated, it takes a lot of energy to heat up the living space. It is better not to let the room cool down completely and simply to let the heating run on a low level. You can always set it higher - and you should every now and then so that the combustion chamber does not get sooty! As a rule of thumb: at least every 1 - 2 weeks for half an hour at full power!
The Autoterm Air 4D in a 1% camper kit
The diesel auxiliary heating from the manufacturer Autoterm, which is contained in the 1% camper, has been a tried and tested technology for many years, which, under the former name Planar 44D, has become indispensable in self-assembly mobile homes.
Robust and easy to repair
The heaters with 4  kw are extremely robust and reliable. In addition, they can even be repaired without serious problems on a trip around the world, if that should actually be necessary. If you make sure that your heating system does not soot through operation only at the lowest level, this is not to be expected.
Altitude kit
Maybe you are more drawn to the mountains than just the cold? The heater is also equipped for this - with an altitude kit that fully automatically adjusts the fuel injection to the changed air pressure conditions.
We ourselves developed the high altitude kit in cooperation with the manufacturer and tested it on the Pitztal Glacier. In the meantime, our customers have traveled a long way with it and have had the heating in use at an altitude of over 5000 meters in some cases.
Warning:
Even with a high altitude kit, a heater can become sooty. Back to normal, the heater must be given an opportunity to get rid of soot deposits. As discussed above: The heating maintains a long service life for half an hour at the highest power level.
Scope of delivery for the 1% camper kit
Our bestseller heater, Autoterm Air 4D (formerly Planar 44D) with height kit. The heater is for vehicles with 12 V on-board voltage.
Technical data Autoterm Air 4D
Operating voltage: 12V
Heating capacity: 1 kW (min), 4 kW (max)
Power consumption: 10 W (min), 69 W (max)
Hot air piping: 90 mm System
Control unit:
PU-5: A simple control unit with a rotary control. It controls the heating via power levels. A temperature sensor, which must be ordered separately, can be connected, then control via the room temperature with the PU-5 is possible.
 
Installation kit:
Autoterm fuel pump "Extra Quiet"
Exhaust silencer made of stainless steel (17 x 9 x 5 cm)
Rubber holder for dosing pump
Metering pump wiring harness
Heater wiring harness
Air intake hose with integrated silencer
Heat protection tube
End piece exhaust pipe + clamp
Tank suction pipe
5.5 m fuel line
fuel line connector
1 m metal corrugated exhaust pipe
Screws, nuts, clamps, shrink tubing, cable ties
Operating instructions
Please note:
The scope of delivery includes fuel hose with which the lines can be connected. The length is usually completely sufficient. If you still can't get by with it, you can reorder the hose by the meter under item number 35612.
Mounting material included in delivery:
Patented stainless steel flange
Our stainless steel flange for a simple and thermally decoupled installation of the heater. The flange was developed in-house and is a patented Tiger Exped design.
Please do not use silicone to glue and seal the flange, but a PUR sealant.
Choose the right size. It is available for floors up to 48 mm (sufficient for most vans) or for 83 mm floor thickness for living cabins or high insulation and floor slabs. For an optimal sealing joint, the flange should be approx. 5 mm longer than the thickness of the Floor.
T-pieces for fuel supply
2 different T-pieces (8 x 8 x 5.3 mm and 5.3 x 5.3 x 5.3 mm) in case you made sure the vehicle's fuel supply line can be used or the car has a parking heater and its line can be used.. If this is not possible, the kit also includes a fuel tank diesel extraction pipe so that you can take the fuel directly from the fuel tank.
Fuel filter
A fuel filter so that the heater always receives clean fuel. For fuel from obscure countries or for vehicles with rusty tanks, this is the life insurance for the fuel pump of the heater. Attention: Do not mount the filter horizontally, but rather at an angle so that the pump always sucks out of the filled side of the filter!
Warm air Distribution
3 meter 90mm hot air pipe and a matching Y-piece (asymmetrical) and two Eberspächer air outlets, rotatable, with a diameter of 90 mm.
Optional

Additional tanks with a volume of 7.5 l or 13 l are available for fuel supply that does not use the vehicle's tank.